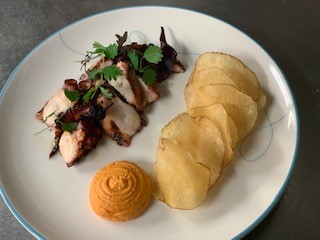 Dish Name: Chargrilled Octopus, Romesco, Sebago crisp
Portions: 4
Preparation Time: 20 minutes
Cooking Time: 80 minutes
List of ingredients:
Marinated Octopus                                                           
500g octopus hands
15g flat leaf parsley picked
15g lemon peel
15g red chilli long chopped
6g cooking salt
15ml grapeseed oil
Sebago Crisps
200g sebago potato
1L canola oil
Romesco
5g peeled garlic
45ml cab sav vinegar
120ml grapeseed oil
100g smoked almonds
2g cayenne pepper
280g red pepper strips
Lemon Dressing
25ml lemon juice
2g cooking salt
2g caster sugar
20ml olive oil
40ml grapeseed oil
Garnish
10g mustard leaf
Method of preparation:
Octopus
Place the octopus arms in a mixing bowl with the parsley, chilli, lemon salt and grapeseed oil, allow to marinade for 24 hours.
Put the octopus arms onto a steamer tray with a gastro under neat to collect the liquid. Make sure the tentacles are on top to keep the shape, seal with cling wrap.
Cook at 100 degrees steam for 60 minutes.Remove from the oven and allow to cool.
Sebago Crisps
Wash the sebago crisps, dry and slice on a mandolin 2mm thickness.
Fry at 150°C for 5 minutes until golden brown.
Transfer to a tray with paper towel, season with salt.
Romesco
Heat the griddle pan on the stove.
Strain the red pepper strips and place in a blender with garlic, cab sav and almonds. Blend until smooth. Slowly add the grapeseed oil and emulsify.
Transfer to a mixing bowl, finish with salt and cayenne pepper.
Lemon Dressing
Place all the ingredients for the lemon dressing in a mixing bowl and whisk together.
Presentation:
Re season the octopus arms and place on the hot griddle pan. Cook for 2 minutes each side until you get a nice charcoal colour.
Remove and slice into 1cm.
Place the octopus on a plate, followed by romesco and sebago crisps. Finish with lemon dressing and mustard leaf.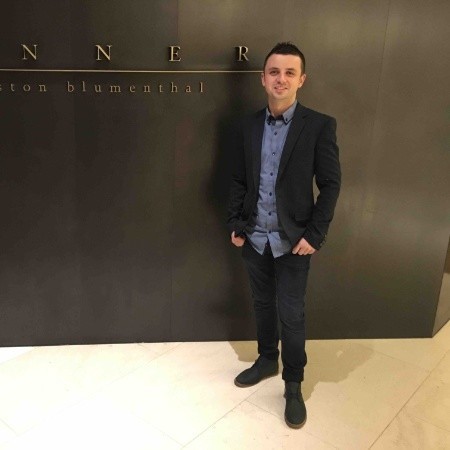 Name of the Restaurant: Opera Bar
Address: Opera Bar, Sydney Opera House, Sydney Harbour
Contact Name: Declan McGovern
Chef Profile: 
Declan Mc Govern is a graduate of the BB in Culinary Arts Management in Galway International Hotel School. He has worked in Ireland, London, America and Dubai prior to his current position as a Sous chef in the Opera Restaurant at the Sydney Opera House. His food is designed to work within the seasons, using local produce and current food trends. Declan is dedicated and committed to excellence at work and involved in mentoring students at the Kenvale College of Hospitality & Events, Sydney