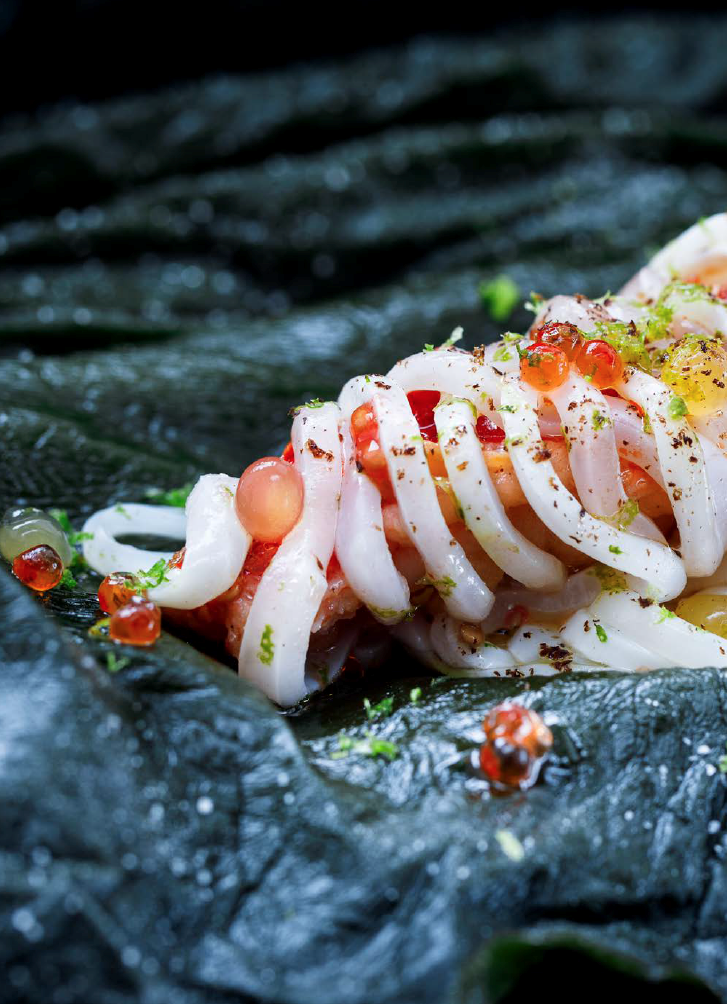 Dish Name: Cuttlefish fettucine with lobster tails, row and dried lime
Portions: 4
Preparation Time: 1 Hour 15 minutes
Cooking Time: 5 minutes
List of ingredients:
Cuttlefish
200 g piece cuttlefish mantle
Tomato Marinade
8–10 very ripe cherry tomatoes
Zest and juice from 2 limes
4 tbsp ponzu
4 tbsp olive oil, for the marinade plus more for sautéing
Lobster
2 fresh lobster tails
Brine made from 1 L water and 50g sea salt
Garnish
50g salmon or other fish roe
50g finely cut up pieces of peeled lemon
1 dried lime (possibly black lime, loomi)
Method of preparation:
Cuttlefish                                                      
Freeze the cuttlefish mantle for about an hour to make it easier to slice.
Place the mantle on a cutting board with the interior facing up. Slice it into long thin, even strips resembling fettucine. Set aside in a bowl.
Pour the tomato marinade over the cuttlefish 'fettucine' and allow it to stand for at least 15 minutes in a cool place.
Tomato marinade
Blanch and peel the cherry tomatoes and set aside.
Sieve the tomatoes to remove the seeds.
Mix the resulting tomato pulp with the lime zest and juice, ponzu, and olive oil.
Lobster
Cut the lobster tails in half, remove the shells and clean out the intestines.
Place a skewer lengthwise through the four lobster tail pieces and immerse them in the brine for 5 minutes.
To make the brine, warm the water and salt mixture until the salt has dissolved and then allow it to cool to 5° C (41° F).
Heat a little olive oil in a skillet and quickly sauté the lobster tails.
Presentation
Holding one end of the lobster skewer, wrap the 'fettucine' around each lobster tail. Carefully remove the skewer.
Arrange each lobster tail on a plate, garnish with the salmon roe and lemon pieces, and drizzle with the remaining marinade.
Grate a little of the rind of the dried lime over them and serve.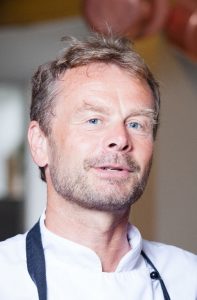 Name of the Restaurant: STYRBÆKS
Address: STYRBÆKS, Slettensvej 223, DK-5270 Odense, Denmark
Contact Name: Chef Klavs Styrbæk
Chef Profile:
Klavs Styrbæk is a professional chef who owns and operates STYRBÆKS together with his wife, Pia. He has created a gourmet centre where people can learn and take their culinary skills to a whole new level. Klavs is particularly enthusiastic about seeking out unique, local raw ingredients that are incorporated into new taste adventures or used to revisit traditional Danish recipes. His award-winning cookbook Mormors mad (Grandmother's Food) (2006), was honored with a special jury prize at the Gourmand World Cookbook Awards in 2007. In 2008 and 2019 he was awarded an honorary diploma for excellence in the culinary arts by the Danish Gastronomical Academy. Together with Ole G. Mouritsen he is author of books about umami, mouthfeel, Christmas dishes, tsukemono, cephalopods, and vegetables.
The recipe is from the following books
Blæksprutterne kommer – spis dem! (O. G. Mouritsen and K. Styrbæk) Gyldendal, København (2018). 232pp.
Cephalopods: Octopus, Squid & Cuttlefish: Seafood for Today and for the Future.  (O. G. Mouritsen and K. Styrbæk) Springer, Heidelberg (2020) xxx pp. in press.