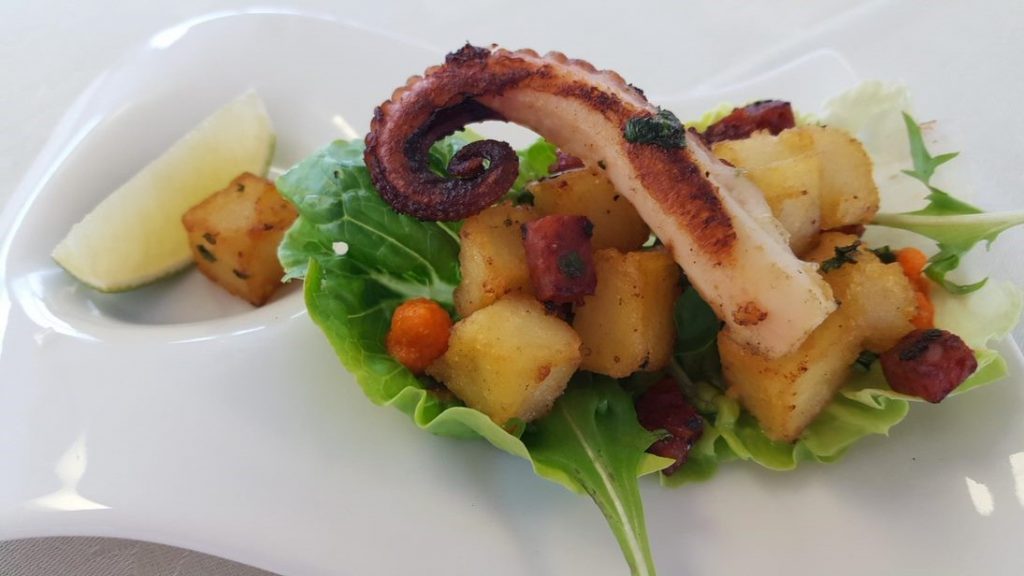 Dish Name: Chargrilled Octopus with chorizo potatoes and Romesco Sauce.
Portions 4:
Preparation Time: 6 and Quarter  hours
Cooking Time: 20 minutes
List of ingredients:
Octopus
2 kg octopus, trimmed
125g extra virgin olive oil
50g garlic, thinly sliced
2 branches rosemary
15g smoked paprika
15g fine sea salt
10g sugar
Chorizo  Potatoes 
1kg diced  potatoes
25g garlic cloves, peeled
5g smoked paprika
15g fine sea salt
Romesco Sauce
500g plum tomato
3 red bell pepper
40g stale bread, toasted
55g whole almonds, toasted
30g roasted garlic cloves
60g olive oil
1 tsp smoked paprika
1 tesp Sherry vinegar
sriracha, as needed
125g chicken stock
2.5g soy lecithin
Method of preparation:
Octopus
Bring a large pot of salted water to a boil. Add the octopus, cook for 30 seconds. Remove to a bowl and set aside to cool completely.
Combine the oil, garlic and rosemary in a small saucepot. Place the mixture over medium heat and cook until the garlic begins to sizzle. Remove from the heat and set aside to cool.
Mix the smoked paprika, salt and sugar in a small bowl. Season the octopus with the mixture and place in a vacuum bag. Pour in the cooled olive oil mixture and seal.
Heat a water bath to 78˚C (172˚F) add the octopus and cook for 6 hours. Remove the cooked octopus from the water bath and cool 15 minutes at room temperature. Remove from the bag and quickly char on a hot grill. Alternatively, the octopus can cook 4 hours at 85˚C (185˚F).
Chargrill to order.
Chorizo potatoes
Cut the potatoes into 1cm dice. Par steam.
Dice the chorizo and saute in hot pan.
As the fat renders down add garlic and fresh thyme.
Add potatoes and cook until golden brown. Season with sea salt.
Romesco Sauce 
Cut the tomatoes in half lengthwise, place cut side down on baking tray and char the skins underneath a salamander. Set aside to cool, then remove the charred skins.
Roast the peppers then peel, discard the seeds and coarsely chop. Place the toasted bread, toasted almonds and roasted garlic in a food processor.
Blend until finely chopped. Add the tomatoes, peppers, oil smoked paprika and sherry vinegar. Blend again until a smooth mixture forms.
Season to taste with salt and hot sauce.
Transfer the blended sauce to a large sauté pan. Cook over medium heat until dry and thickened.
Presentation:
Place the diced potatoes into the base of a tapas dish.
Top with chargrilled octopus and teaspoon of the romesco Sauce.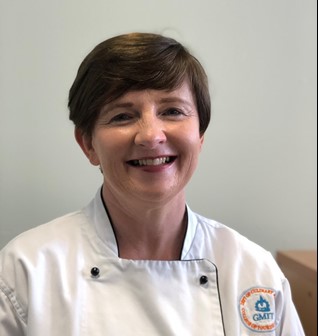 Name of the Training college: Galway International Hotel School, GMIT,
Address:  Dept of Culinary Arts
Contact Name: Anne O' Leary
Chef Profile: 
Anne O' Leary has been part of the Irish Culinary Education Landscape since 1996 when she joined GMIT. She has worked in fine dining restaurants in Clare and Galway. Anne holds a primary degree in education and a MSc in new product developments and culinary innovation. Anne has had many successes mentoring students for national and international competitions. Anne has the privileged position of shaping the minds of future chefs.