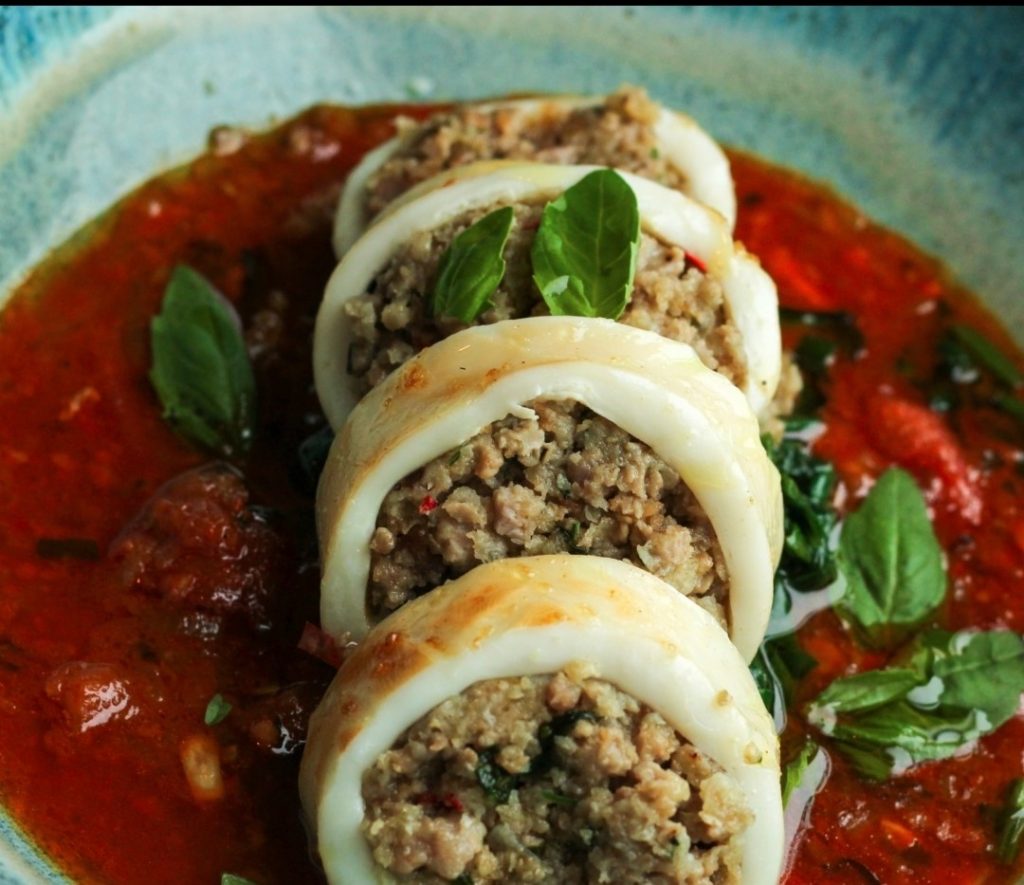 Dish Name : Roast Calamari Stuffed with Chilli & Garlic and Pork with Chard and Tomato & N'Duja sauce
Portions: 4
Preparation time: 1 hour
Cooking time: 20 minutes
List of Ingredients:
 Pork stuffing
1 large onion
5 cloves of garlic
1 red chilli
1 sprig of thyme
100ml white wine
400g pork mince
100g breadcrumbs
1 bunch of parsley
Zest of 1 lemon
Salt
4 calamari tubes/mantles
Tomato & Nduja sauce
2 shallots
10 cherry tomatoes
100ml white wine
300ml chicken stock
30g n'duja paste
1 small bunch of chard
1 small bunch of fresh basil leaves
Method of Preparation:
 Pork stuffing
Finely dice the onion, garlic, and chilli and sweat on a low heat until soft.
Add in the pork and turn up the heat.
Cook until lightly browned.
Add in the wine, lemon and thyme and reduce until almost gone.
Finely chop the parsley and add this into the mix with the breadcrumbs. Season and set aside to cool. In the meantime, finely shred the chard and wash thoroughly.
 D'duja sauce
Finely dice the shallots and garlic and sweat over a low heat until soft, halve the tomatoes and add them to this pan, cooking for a few minutes until they begin to break down.
Add the n'duja and use the back of a spoon to break it down with a spoon. Deglaze with the white wine, and stock. Reduce until the sauce is thickened slightly. Season with salt and black pepper.
 Squid
Score the outside of the squid tubes very gently – do not cut the whole way through. Fill each tube with the stuffing, and using a toothpick, seal the opening.
Preheat the oven to 200°C, place the stuffed tubes onto a tray lined with parchment. Brush the top of the tubes lightly with olive oil and season with good quality sea salt.
Bake for 15 minutes or until beginning to brown slightly.
Presentation:
Add the chard into the sauce and warm through slowly.
Divide the sauce into the 4 bowls and make a 'bed' with the chard.
Cut the stuffed squid into even slices and arrange onto the chard.
Garnish with some fresh basil leaves.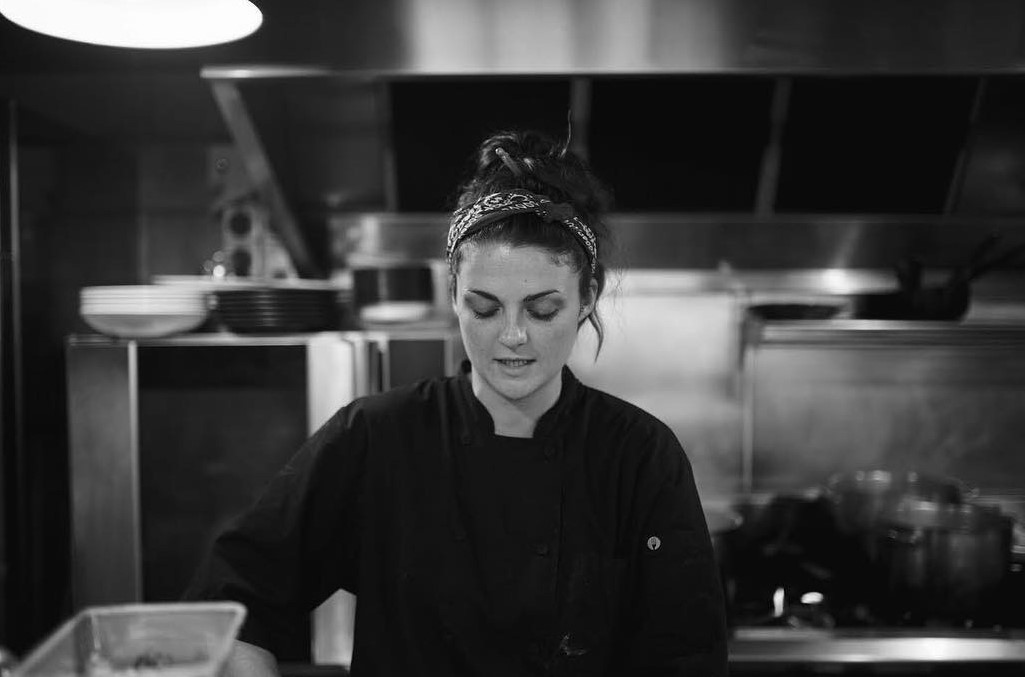 Alice Jary is a graduate of the Galway International Hotel School where she completed a BB in Culinary Arts Management. She is the Head chef & co owner of Rúibín bar & restaurant in Galway, which she owns and runs with her partner Richard.
Their ethos is to cook with influences from around the globe, using the best of seasonal, local produce.