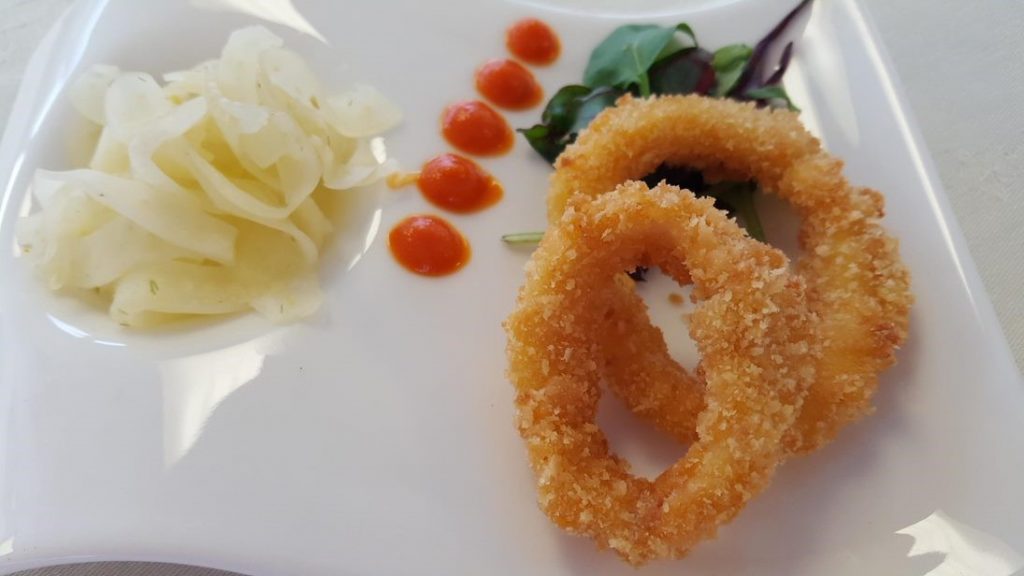 Dish Name: Crispy Calamari with Fennel Salad, Lemon foam, Red pepper and chili dressing.
Portions: 4
Preparation Time: 30 minutes
Cooking Time: 30 seconds
List of ingredients:
Calamari Rings 
4 squid rings
Salt, pepper, lemon juice
Seasoned flour with smoked paprika, cayenne and turmeric
Egg wash
Fine breadcrumbs
Fennel Salad
500g fennel finely sliced
2 orange  zest and juice
Finely chopped fennel fonds
Lemon foam
150g lemon juice& zest
100g stock syrup
250g water
4g soy Lecithin
Chili Dressing 
1 chili
1 lime
1 red pepper
1 shallot
1 garlic clove
100ml extra virgin olive oil
10ml white wine vinegar
20ml honey
Seasoning
Method of preparation:
Squid
Cut the rings, toss in lemon juice and season with salt and pepper. Pané.
Place the pane rings in at deep fat fryer at 180°C for 30 seconds.
Fennel Salad
Trim the fennel root.  Remove the fonds and finely chop.
Cut fennel into quarters and remove the core.
Shred finely. Combine with the zest and juice of the orange.
Finish with chopped fennel
Lemon Foam
Combine all ingredients for the foam in a pan and simmer for 10 – 15 minutes. Strain.
Add lecithin granules to the pan, whisk until smooth. Season to taste.
When required, heat to 50 – 60°C, then blitz with a hand blender to create bubbles.
Once a lot of foam is created. Let stabilize for one minute.
Chilli Dressing
Roughly chop the red pepper and shallots for the dressing.
Deseed the chili, juice and zest the lime.
Sauté the pepper, shallots and garlic until soft.
Add to the thermomix with the vinegar and honey. Blitz. Add oil slowly to bring to right consistency.
Presentation:
Drain calamari and serve immediately on fennel Salad.
Dot with red pepper and chilli dressing.
Top with a spoon of lemon foam.
Garnish with baby red chard and edible flowers.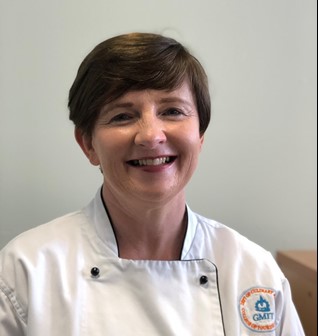 Name of the Training college: Galway International Hotel School, GMIT,  School, GMIT
Address:  Dept of Culinary Arts
Contact Name: Anne O' Leary
Anne O' Leary has been part of the Irish Culinary Education Landscape since 1996 when she joined GMIT. She has worked in fine dining restaurants in Clare and Galway. Anne holds a primary degree in education and a MSc in new product developments and culinary innovation. Anne has had many successes mentoring students for national and international competitions. Anne has the privileged position of shaping the minds of future chefs.