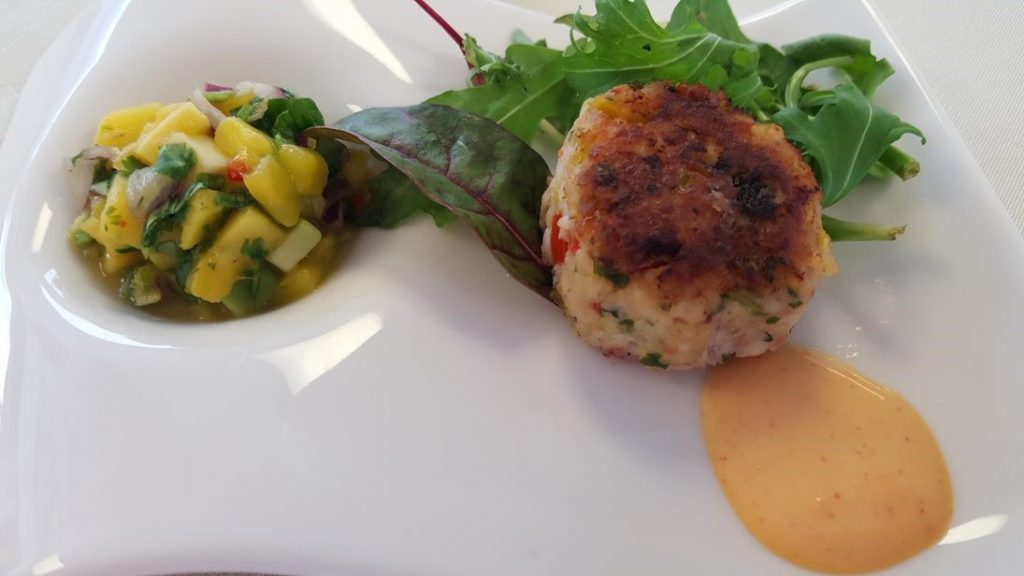 Dish Name: Thai Style Octopus Burger, Mango-Avocado salsa, Sriracha Mayonnaise  
Portions : 4
Preparation Time: 30 minutes
Cooking Time: 10 minutes
List of ingredients:
Thai style Burgers
1 kg fresh octopus cooked
2 eggs
1 red onion finely diced
1 red pepper
2 garlic cloves, crushed
2cm piece grated fresh ginger
1 red chilli finely chopped
1 lime juiced
2 tbsp olive oil
2 slices bread, soaked in water
salt and pepper
fresh coriander and parsley, chopped
vegetable oil, for frying
Mango and Avocado Salsa
2 ripe mangos
2 avocado
1 red chili
1 small red onion
Large bunch of coriander
1 lime Juiced
50g fresh coriander
Srirachi  Mayonnaise
200g mayonnaise
100g greek yoghurt
Sriracha sauce to season.
Method of preparation:
Octopus burgers
Coarsely chop cooked octopus ensuring texture will have "noticeable" pieces (if using a food processor be careful not to over process).
Combine all ingredients in a large mixing bowl.
Scoop heaped spoonful's of mixture and shape into small burgers and place on a tray.
Lightly coat in flour and fry in hot oil.
Burgers are ready when they turn a golden crisp colour. Drain on kitchen paper towel.
Mango and Avocado Salsa
Finely dice the mango, avocado, red onion and red chili. Combine all with lime juice. Add coriander and salt to season.
Sriracha Mayonnaise
Combine mayonnaise and yoghurt in a bowl. Add Sriracha mayonnaise to add flavour and heat.
Presentation:
Place a tablespoon of salsa into a small leaf of gem lettuce.
Top with the octopus burger and a drizzle of Sriracha sauce.
Garnish with chopped chives.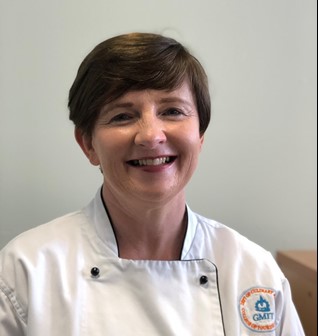 Name of the Training college: Galway International Hotel School, GMIT,  School, GMIT
Address:  Dept of Culinary Arts
Contact Name: Anne O' Leary
Anne O' Leary has been part of the Irish Culinary Education Landscape since 1996 when she joined GMIT. She has worked in fine dining restaurants in Clare and Galway. Anne holds a primary degree in education and a MSc in new product developments and culinary innovation. Anne has had many successes mentoring students for national and international competitions. Anne has the privileged position of shaping the minds of future chefs.