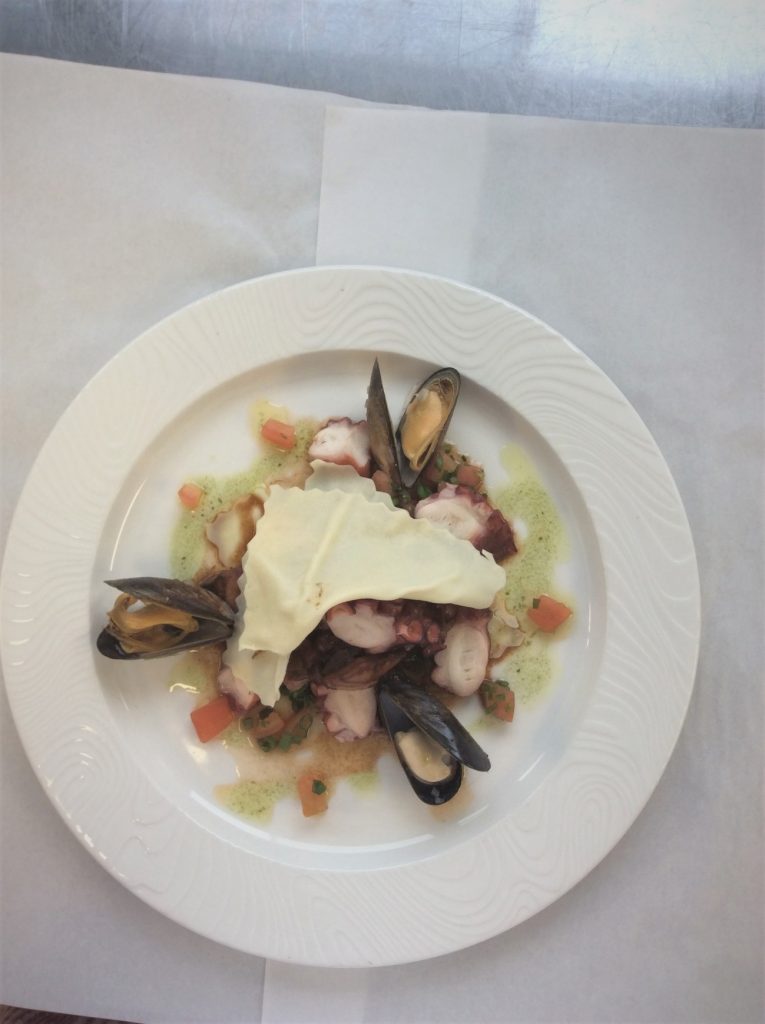 Dish Name: Octopus/Squid Bolognaise with fresh pasta
Portions: 4
Preparation Time: 1hr 15 Minutes
Cooking Time: 10 minutes
List of ingredients:
Bolognaise
800g diced squid
500g precooked octopus
2 red onions finely diced
2 cloves of garlic
1 tsp fennel seeds
250ml white wine
250ml balsamic vinegar
500ml fish stock
3 tbsp. soya sauce
3 tbsp. oyster sauce
454g tin of tomatoes
100g of each basil, coriander and parsley
Fresh pasta
250g 00 flour
2.5g salt
12.5ml olive oil
25ml water
1 egg
11g egg yolk
To Garnish
Steamed mussels, diced tomatoes, basil oil.
Method of preparation:
Bolognaise
Sauté fennel seeds, red onion, roast red pepper and garlic in olive oil for two mins.
Add diced squid cook for 4-5 minutes, add white wine and balsamic vinegar.
Reduce by a third, add fish stock, fish sauce, soy and oyster sauce. Cook for 4-5 mins.
Add tomato puree, chopped tomatoes and cook for 1 hour.
For the last 5 minutes add the cooked octopus to the sauce.
Finish with a freshly chopped coriander, parsley and basil.Check for seasoning.
Pasta
Place flour, salt together in a mixing bowl.
Combine egg, egg yolk, water and oil together.
Add the liquid mix to the pasta. Mix well to develop gluten and create a soft smooth dough.
Allow to relax for 30 minutes before rolling out into 2mm thin pasta sheets.
Cook to order in boiling salted water.
Presentation:
Layer the cooked pasta sheets with the bolognaise mix.
Finish with some basil oil and diced tomatoes and steamed mussels.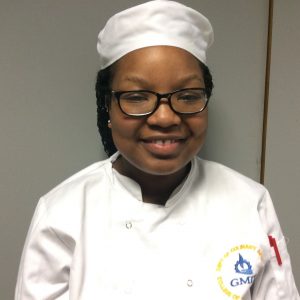 Name of the Training college: Galway International Hotel School, GMIT
Address: Dept of Culinary Arts
Contact Name: Ashley Shanya
School Profile: The Department of Culinary Arts operates from its campus in Galway city. It is committed to providing a dynamic student-centered learning environment in the many pathways available in culinary arts.