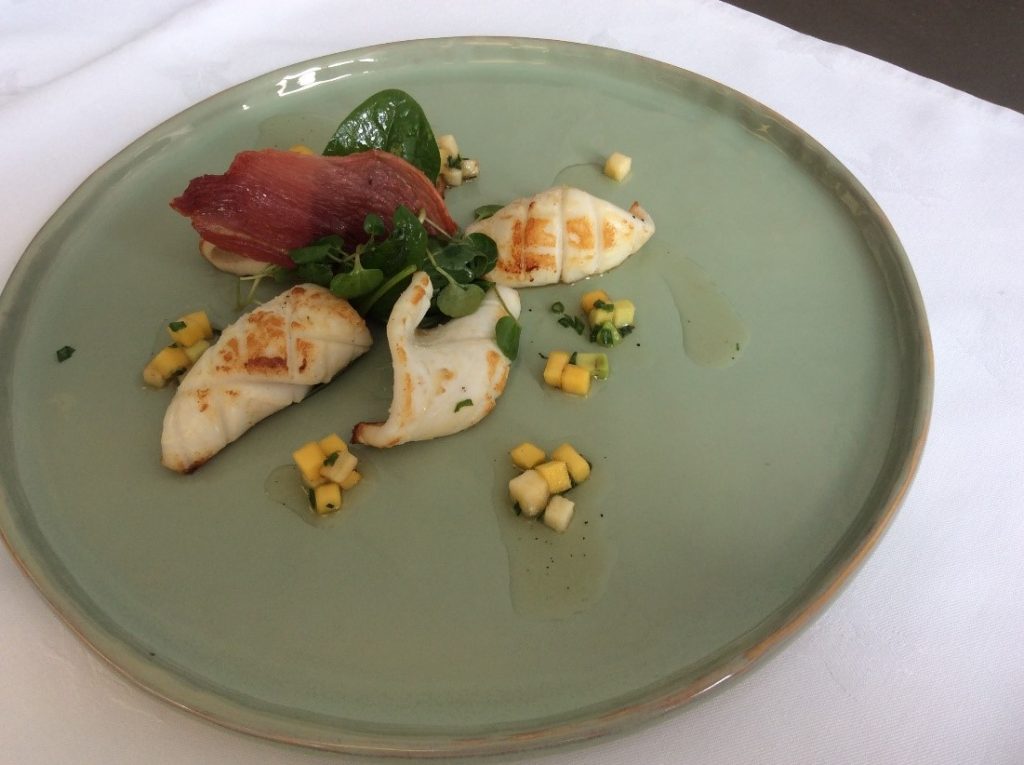 Dish Name: Seared Squid, Banana, Mango and Vanilla Salsa, Dukkha dressing
Portions: 4
Preparation Time: 40 minutes
Cooking Time: 30 seconds
List of ingredients:
2 large squid
Banana, Mango, Vanilla salsa
½ banana
100g mango
½ vanilla pod
25g sugar
1 lime juiced
½ tbsp. of fresh coriander
Dukkha Dressing
30g hazelnuts
12g seasame seeds
6g cumin seeds
4g coriander seeds
1g ground cinnamon
1g dried mint
1g salt and black pepper
8ml sherry vinegar
30ml extra virgin olive oil
Garnish
2 slices of parma ham
2 handfuls of mixed salad leafs
Method of Preparation:
Squid
Wash the squid carefully, remove the beak, plume and any innards.
Trim the tentacles and leave aside for other dishes.
Slit the body down the side to open. Remove any visible membranes and lightly score the squid creating diagonal cuts.
Flip the squid over and repeat the scoring on the other side.
Lightly season the squid with salt and pepper. Sear on a hot pan until golden brown (30 seconds).
Banana, Mango, Vanilla Salsa
Slit the vanilla pod in half and scrape out the seeds.
Make a syrup with the sugar and 50ml of water, the vanilla pod and seeds.
Allow to cool and add the lime juice.
Dice the mango and banana into 5 mm dice and add to the syrup.
Finish with finely chopped coriander.
Dukkha Dressing   
Measure all the ingredients for the dukkha separately.
Toast the seeds and the nuts separately in a hot pan.
Place in a food processor with the cinnamon, mint, salt, and pepper and blend to a dry paste.
Add sherry vinegar and oil to make a dressing.
Presentation:
Lightly grill the Parma ham until crisp under a salamander to create a crisp.
Toss the salad leaf's in the dukkha dressing and place in the centre of the plate.
Surround the salad with the squid, drizzle the plate with a generous spoon of the salsa.
Additional dukkha can also be used for extra flavor and colour. Garnish with the Parma crisp.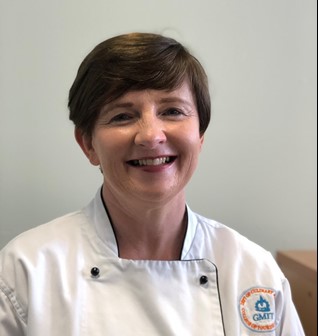 Name of the Training college: Galway International Hotel School, GMIT,  School, GMIT
Address:  Dept of Culinary Arts
Contact Name: Anne O' Leary
Anne O' Leary has been part of the Irish Culinary Education Landscape since 1996 when she joined GMIT. She has worked in fine dining restaurants in Clare and Galway. Anne holds a primary degree in education and a MSc in new product developments and culinary innovation. Anne has had many successes mentoring students for national and international competitions. Anne has the privileged position of shaping the minds of future chefs.