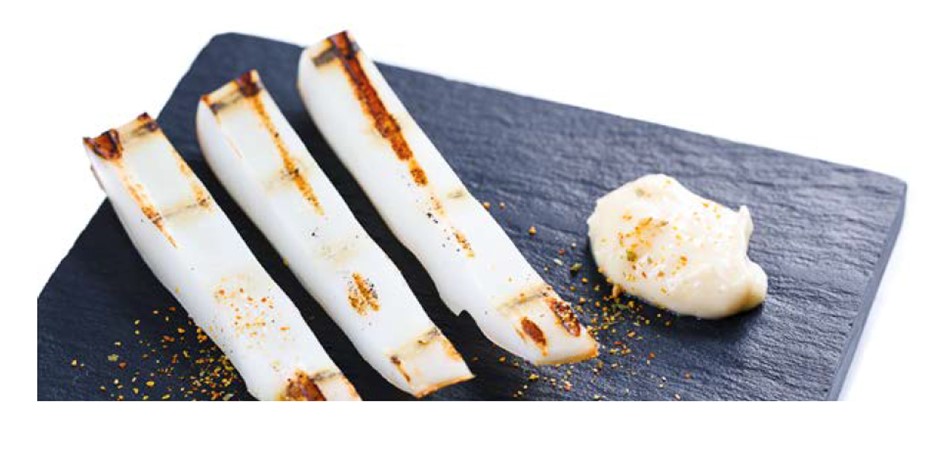 Dish Name: Grilled semi-dried cuttlefish
Portions: 4
Preparation Time: 2-4 Hours
Cooking Time: 2-4 minutes
List of ingredients:
A piece of mantle from a large squid or cuttlefish, cleaned
Sea salt
Mayonnaise with yuzu
Concentrated dashi
Shichimi
Method of preparation:
Cut open the cleaned mantle along the side, sprinkle lightly with salt, and place it flat on a rack or a bamboo mat.
Allow the mantle to dry in the sun for 2-4 hours until the meat has shrunk together and taken on a leather-like texture.
Alternatively, it can be allowed to dry overnight in a cool place and then placed briefly in the sun in the morning.
Grill the mantle for 2-4 minutes on each side on a moderately hot grill, preferably a charcoal grill.
Cut the mantle into strips about 1 cm (1/2 in) wide.
Presentation:
Place 3-4 strips on each plate, sprinkle lightly with shichimi, and add a dollop of the mayonnaise on the side for dipping.
If no shichimi is available, use a little chili powder instead.
Note:
The cuttlefish strips could also be served with a little soy sauce or ponzu. After the mantle has been semi-dried it can be kept in the refrigerator for up to two days before being grilled.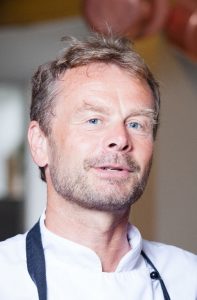 Name of the Restaurant: STYRBÆKS
Address: STYRBÆKS, Slettensvej 223, DK-5270 Odense, Denmark
Contact Name: Chef Klavs Styrbæk
Chef Profile:
Klavs Styrbæk is a professional chef who owns and operates STYRBÆKS together with his wife, Pia. He has created a gourmet centre where people can learn and take their culinary skills to a whole new level. Klavs is particularly enthusiastic about seeking out unique, local raw ingredients that are incorporated into new taste adventures or used to revisit traditional Danish recipes. His award-winning cookbook Mormors mad (Grandmother's Food) (2006), was honored with a special jury prize at the Gourmand World Cookbook Awards in 2007. In 2008 and 2019 he was awarded an honorary diploma for excellence in the culinary arts by the Danish Gastronomical Academy. Together with Ole G. Mouritsen he is author of books about umami, mouthfeel, Christmas dishes, tsukemono, cephalopods, and vegetables.
The recipe is from the following books
Blæksprutterne kommer – spis dem! (O. G. Mouritsen and K. Styrbæk) Gyldendal, København (2018). 232pp.
Cephalopods: Octopus, Squid & Cuttlefish: Seafood for Today and for the Future.  (O. G. Mouritsen and K. Styrbæk) Springer, Heidelberg (2020) xxx pp. in press.