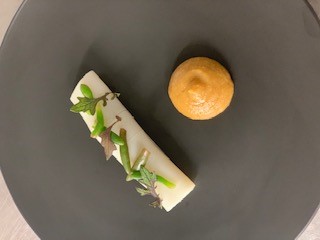 Dish Name: Poached Squid, Eggplant & Miso Puree, Sea Banana
Portions: 4
Preparation Time: 20 minutes
Cooking Time: 5 minutes
List of ingredients:
Eggplant puree
400g eggplant
80g miso paste
5g cooking salt
Squid
1 whole squid tube (800g)
1 kg butter
50ml lemon juice
Garnish
20g sea banana
10g micro red lace
Sea salt
Method of preparation:
Squid
Clean squid, using a sharp knife cut the squid open so it is one flat piece and remove any excess sinew. Cut the squid into 4 even pieces 10cm x 8cm.
With the skin side down carefully score each piece, 2mm wide. Using a cannoli mould wrap the squid around the mould and place onto a tray repeat for the remaining 3 pieces.
Melt the butter slowly allow to simmer until the foam rises. Once melted remove from the heat and skim the foam. When the butter is skimmed pass through a muslin cloth and add the lemon juice.
Heat the clarified butter to 68°C degrees. Place the squid into the butter for 2 minutes, heat the puree in a water bath for 1 minute.
Remove the squid and drain on a paper towel. Carefully push the squid off the cannoli mould.
Egg Plant & Miso  Puree
Peel the eggplant and cut into 1cm cubes, place in a pot of boiling salted water with the lemon juice. Cook for approximately 5 minutes until tender, drain the liquid and place the eggplant with the miso into a blender. Blend until smooth and pass through a fine sieve. Place into a piping bag.
Presentation:
To serve place the miso puree on the plate followed by the poached squid, garnish with sea banana, red lace and sea salt.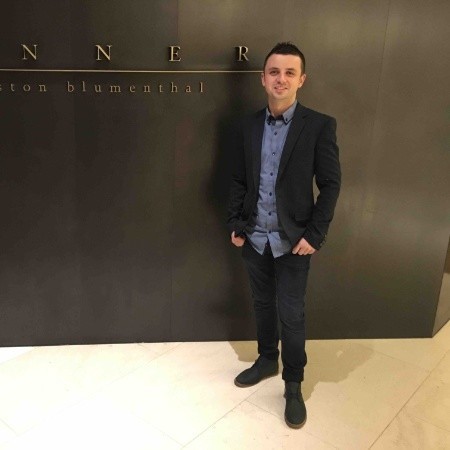 Name of the Restaurant: Opera Bar
Address: Opera Bar, Sydney Opera House, Sydney Harbour
Contact Name: Declan McGovern
Chef Profile: 
Declan Mc Govern is a graduate of the BB in Culinary Arts Management in Galway International Hotel School. He has worked in Ireland, London, America and Dubai prior to his current position as a Sous chef in the Opera Restaurant at the Sydney Opera House. His food is designed to work within the seasons, using local produce and current food trends. Declan is dedicated and committed to excellence at work and involved in mentoring students at the Kenvale College of Hospitality & Events, Sydney