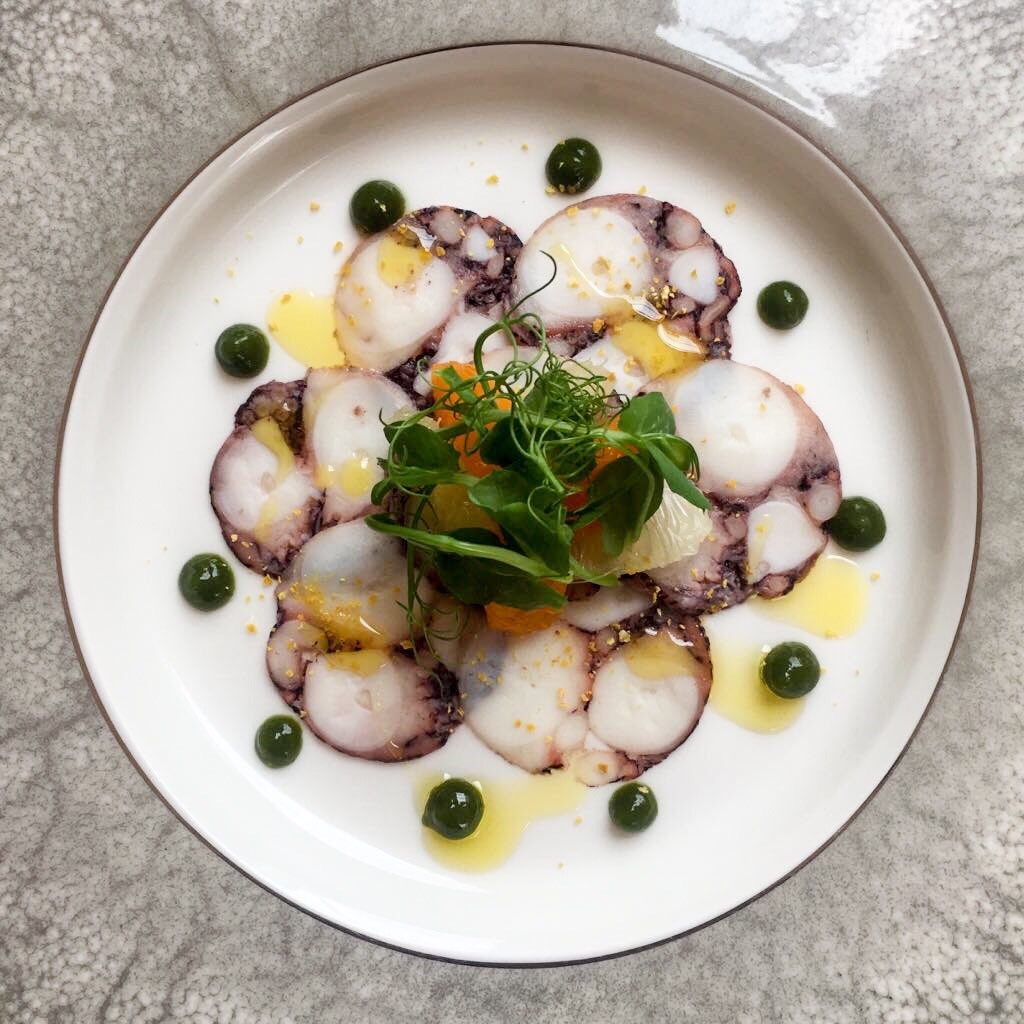 Dish Name: Octopus Carpaccio with Caramelised Citrus salad, Watercress Gel
Portions: 4
Preparation Time: 12 hours
Cooking Time: 30 minutes
List of ingredients:
Octopus
1kg octopus
Cooking liquor
750ml white wine
1 lemon
1 orange
2 bay leaf
5 peppercorns
200g mirepoix
4.5L water
Caramelised Citrus Salad
4 clementine's
4 lime
25g granulated sugar
Watercress Gel
1 Cucumber
300g Watercress
25g Dill
xantham gum
Method of preparation:
Octopus
Combine all the cooking liquor ingredients together and bring to the boil.
Place Octopus in the cooking liquor, bring back to the boil and simmer gently for forty minutes or until tender.
When octopus is cooked place into ice cold water to keep its colour for a few minutes.
Place a large double layer of cling film on work bench. Place the legs of the octopus (head to toe) on top of the cling film approximately 6 cm deep.
Roll the cling film around the octopus to create a tight roll. Prick the roll a few times with a cocktail stick to remove excess air.
Secure both ends and place in the freezer overnight. When required remove from freezer and carve thin slices from the frozen roll.
Place directly onto service plates for ease of handling.
Watercress Gel
Peel and juice cucumber combine with watercress and dill.
Bring to the boil.
Stain and put watercress mix in a food processor and blend in the xanthan gum to thicken to a gel consistency.
Caramelised Citrus salad
Segment the clementine's and the limes.
Dry on a kitchen paper.
Place on a metal tray and sprinkle with the sugar. Using a blow torch caramelise the fruit until golden brown.
Presentation:
Place the sliced carpaccio overlapping on a round plate.
Leave an area in the centre for the citrus salad.
Top with micro herbs.
Dot the watercress gel around the plate.
Sprinkle the carpaccio with dehydrated lemon zest and a drizzle of rape seed or extra virgin olive oil.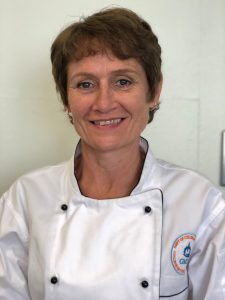 Name of the Training college: Galway International Hotel School, GMIT
Address: Dept of Culinary Arts, Galway Mayo Institute of Technology, Dublin Rd, Galway City
Contact Name: Sadie Davoren
Chef/Restaurant/School Profile: Sadie Davoren trained as a chef and worked in restaurants and hotels in Ireland and abroad while furthering her education. She has completed a L9 Postgraduate in Learning, Teaching and Assessment, and an MA in Culinary Arts Management. Working as a culinary arts Lecturer not only gives Sadie the opportunity to pass on skills and knowledge but also allows her to inspire and encourage students to compete and reach their potential.