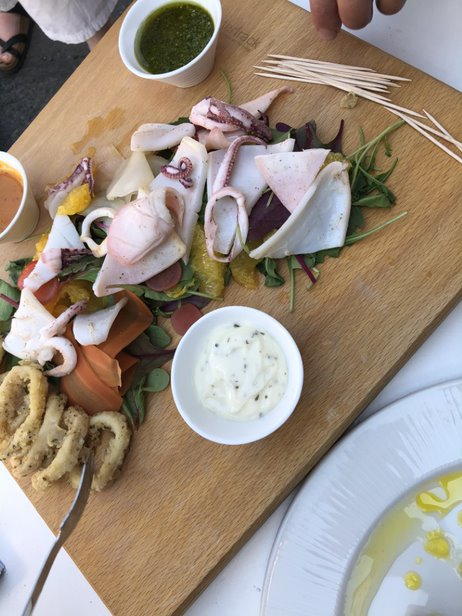 Dish Name: Seared Squid, Crispy Calamari with pickled vegetables and Tzatziki dressing
Portions: 4
Preparation Time: 1 hours
Cooking Time: 5 minutes
List of ingredients:
(metric quantities to produce 4 portions)
Crispy Calamari/Seared Squid
4  Squid tubes
Salt, pepper, lemon juice
Seasoned flour with smoked paprika, cayenne and turmeric
Egg wash
Fine pretzel crumbs
Pickled vegetables
1 teaspoon whole black peppercorns
1 teaspoon whole coriander seeds
4 fresh bay leaves
500ml white vinegar
500ml water
30g sugar
Coarse salt
100 g beetroot
100 g carrot
100 g fennel
50 g radishes
Tzatziki dressing
1 cucumber
200ml Greek yogurt or natural yogurt
2 garlic cloves,
½ tb lemon juice
2 tbl fresh mint leaves, chopped
Method of preparation:
Combine the pickling ingredients in a pot bring to a simmer and cool.
Peel the carrots and beetroot.  Slice the carrot and beetroot thinly on the mandolin.
Trim, remove the stalk and cut the fennel in thin ribbons. Slice the radishes thinly.
Place each vegetable in separate vacuum bags. Distribute the pickling juice equally between the bags. Seal bags and keep in the fridge.
Wash, half and deseed the cucumber and grate flesh.  Crush the garlic, chop the mint, combine with the yoghurt. Stir in cucumber and seasoning. Leave to infuse.
Using a small sharp knife, Cut two squid down the centre to create a butterfly effect. Lightly score on the inside – diamond shape pattern, taking great care not to cut right through the squid.  Lightly brush the squid and the tentacles on both sides with the oil, then season with salt and freshly milled black pepper. Only season the squid the moment it goes into the pan – if you do it in advance, the salt will draw out all the moisture.  Place the well scored pieces in a hot frying pan containing hot oil. Saute for 30 seconds, turning halfway through, until lightly charred.
Cut the remaining two squid into 1 cm rings, toss in lemon juice and season with salt and pepper. Pane in smoked paprika seasoned flour , egg wash and pretzel breadcrumbs. Place the pane rings in at deep fat fryer at 180°C for 30 sec.
Method of Assembly
Drain calamari  and seared squid. Serve immediately on bed of pickled vegetables.
Dot with Tzatziki dressing and dress with Baby red chard edible flowers to garnish.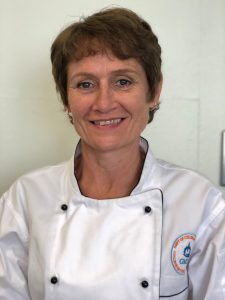 Name of the Training college: Galway International Hotel School, GMIT
Address: Dept of Culinary Arts, Galway Mayo Institute of Technology, Dublin Rd, Galway City
Contact Name: Sadie Davoren
Chef/Restaurant/School Profile: Sadie Davoren trained as a chef and worked in restaurants and hotels in Ireland and abroad while furthering her education. She has completed a L9 Postgraduate in Learning, Teaching and Assessment, and an MA in Culinary Arts Management. Working as a culinary arts Lecturer not only gives Sadie the opportunity to pass on skills and knowledge but also allows her to inspire and encourage students to compete and reach their potential.