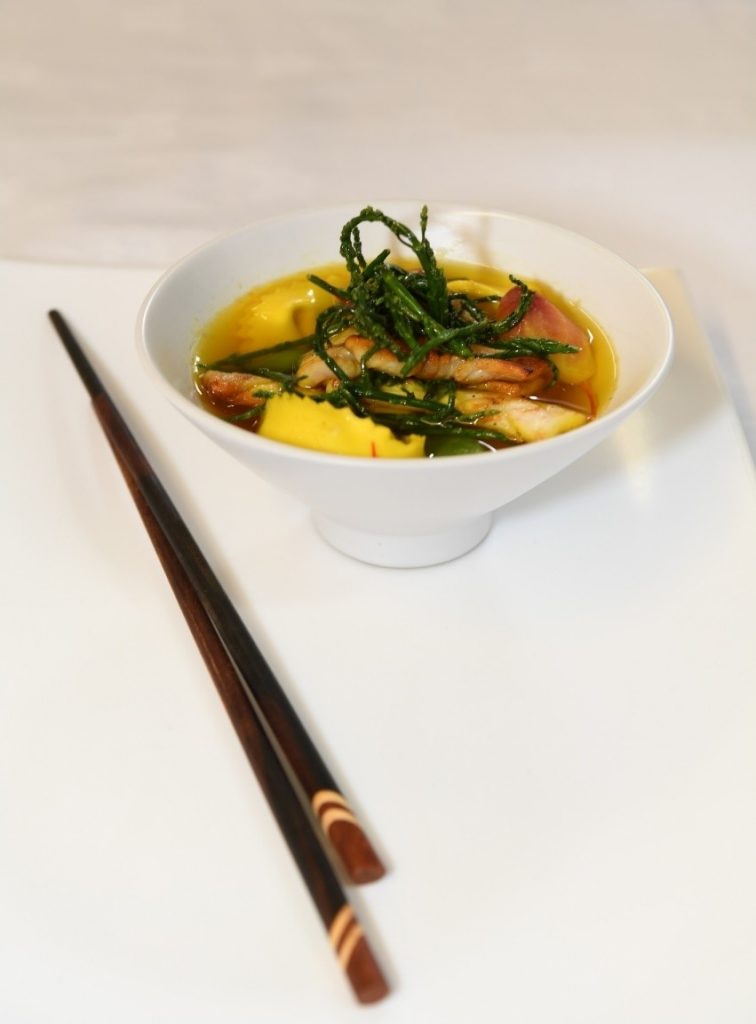 Dish Name: Saffron infused Broth with Trompette Ravioli, Squid and Navets
Portions: 4
Preparation Time: 1 hour.
Cooking Time: 20 minutes.
List of ingredients:
Ravioli paste
250g plain flour
Salt
2 eggs
1 egg yolk
tbsp water
½ tbsp oil
Ravioli filling
25g butter
20g onion finely chopped
1 clove garlic
50g spinach washed and chopped
100g trompette mushrooms finely chopped
Squid trimmings chopped
20g parmesan cheese grated
20g breadcrumb
Seasoning
Broth
2L fish stock
10 strands saffron
400g squid, prepare and cut in 4 cm x 2 cm lengths
1 shallot finely diced
40g red pepper finely diced
10g red chilli finely diced
10g butter
3 navets turned 3 cm in length
20g samphire
Method of preparation:
Ravioli filling
Sweat onion and garlic in butter.
Add the spinach and sauté for 2 minutes.
Add the mushrooms and sauté for 2 minutes.
Stir in the squid trimmings and remove from heat.
Stir in the breadcrumbs and parmesan, season to taste.
Allow to cool.
Ravioli paste
Sieve flour and salt.
Whisk eggs, yolks, and oil together in bowl and add to the flour.
Mix well to form a dough.
Knead mixture till firm, smooth and silky to the touch.
Cover with damp cloth and rest for 30 minutes in a cool place prior to using.
Dust table surface and roll out the dough to 80 x 40 cm and 2mm in thickness.
Pipe small amounts of cold mixture at 3 cm intervals on half of dough.
Egg wash and fold over the remaining half of the dough. Seal from the centre of the dough to avoid air pockets and cut into 3 cm squares.
Place ravioli in a pan of boiling salted water and poach gently for 3-5 minutes, keeping slightly undercooked. Drain.
Broth
Prepare the squid and cut the mantle into 2 cm square pieces.
Boil the navets in salted water for 3 minutes and refresh.
Wash the samphire.
Lightly sauté the shallot, pepper and chilli in the butter. Add the stock and saffron and bring to the boil.
Add the navets and return to the boil.
Add the pasta and squid, simmer gently for 30 seconds to reheat/cook and infuse all the flavours.
Season with salt and white pepper.
Presentation:
Spoon the pasta, navets and squid into heated bowls.
Ladle the broth on top.
Garnish with samphire.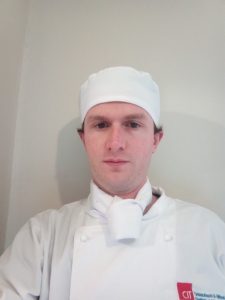 Name of the Training college: Cork Institute of Technology
Address:  Rossa Avenue, Bishopstown, Cork
Contact Name:  Kenneth Bergin
Chef Profile:
Kenneth Bergin is a trainee student at Cork Institute of Technology studying Higher Certificate in Culinary Studies Year 2. He has worked in the Sheen Falls Hotel in Kenmare. His interest in the growing and cooking of food has led him towards a career as a chef. He intends to progress to the Bachelor of Business in Culinary Arts at Cork Institute of Technology and hopes to excel in the culinary industry in the future.