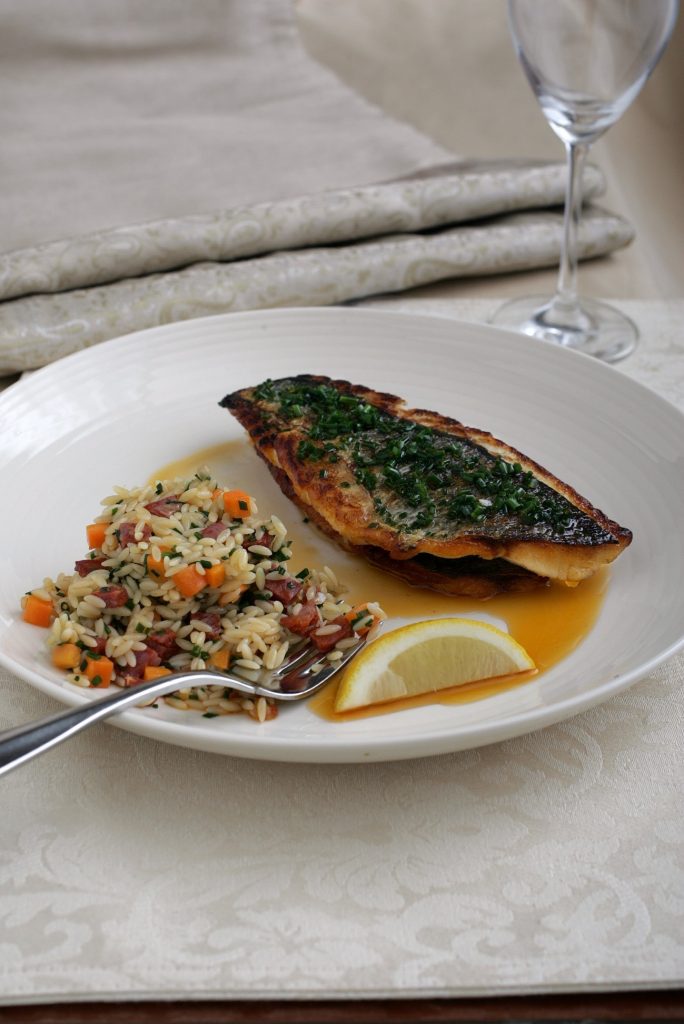 Dish Name: Seared sea bream with squid and chorizo orzo and garlic mayonnaise
Portions: 4
List of ingredients:
Squid and chorizo orzo
200g orzo pasta
1 shallot (diced)
1 clove garlic (crushed)
1 carrot (peeled and diced)
100g chorizo (diced)
Juice of 1 lemon
2 tablespoons white wine
4 squid (cleaned and sliced)
2 tablespoons chopped chives
Garlic mayonnaise
1 clove garlic (crushed)
200ml mayonnaise
1 teaspoon chopped chives
Sea bream
4 sea bream (gutted and filleted)
Olive oil
Method of preparation:
Orzo
Cook the orzo in boiling salted water for 10 minutes.
Drain and set aside in a heavy-based saucepan.
Saute the shallot, garlic, carrot and chorizo for 3 minutes. Add the lemon juice and wine.
In a separate hot oiled pan, sauté the squid quickly for 1 minute.
Add the squid to the chorizo mixture with the orzo and chives.
Mayonnaise
Mix all the ingredients together.
For the sea bream
Sear the fillets with a little olive oil on a hot pan (skin side down first) for 2 minutes on each side.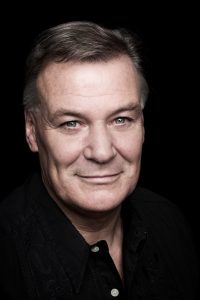 Name of the Restaurant: L'Ecrivain
Contact Name: Derry Clarke
Chef:
Derry Clarke has been Chef/Patron of l'Ecrivain Restaurant for 30 years.  Derry and l'Ecrivain have been awarded many accolades over the past 30 years, including Best Restaurant and Best Chef Awards. Derry was inducted into Food and Wine Magazines "Hall of Fame" 2012.  IN 2015 a five-star review by The New York Times described l'Ecrivain Restaurant as "superb" and "a good spot to linger" whilst in Dublin. He has written two successful cookbooks. L'Ecrivain is the proud holder of a Michelin Star.  Derry, and his wife  Sallyanne & l'Ecrivain just recently won Best Fine Dining Overall in Ireland 2018 at the Yes Chef Award. May 2019 they were both given the Hall of Fame Recognition Award for their 30 years of excellent food & service to the industry in Ireland from a jury of their peers at the Good Eating Guide.