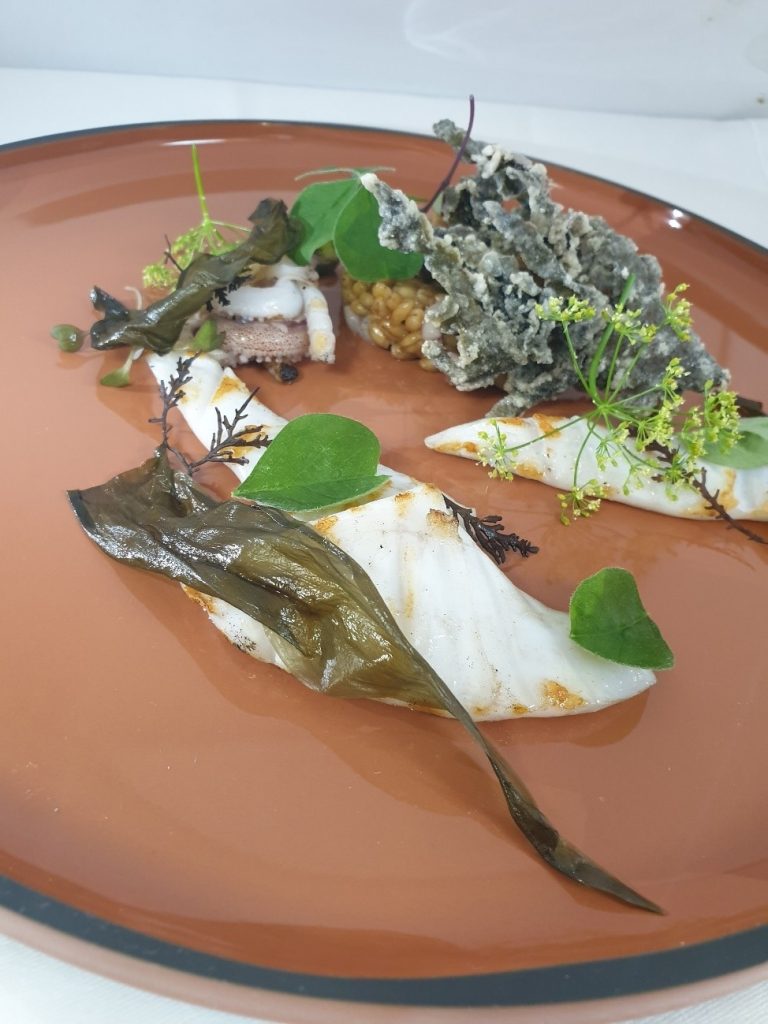 Dish Name: Chargrilled Squid, Barley and Tentacle Risotto,Parsley and Dillisk Pistou, Salt and Vinegar Nori
Portions: 4
Preparation Time: 45 minutes
Cooking Time: 10 minutes
List of ingredients:
Fresh squid, cleaned opened and scored to tenderize
Tentacles cleaned
100g washed barley
500 ml fish stock
1 shallot
1 clove garlic
2 tbsp chopped tarragon
1 lemon cut in half
30g butter + 30 g butter to finish barley
200g fresh parsley
100g dried dillisk
200ml sunflower oil
100g fresh nori
50g gluten free flour
Salt
Pinch citric acid
Fresh wild garlic leaves lightly pickled in April / May months and placed into a kilner jar to preserve for garnish
Method of preparation:
Risotto
Dice the shallot and garlic finely and gently cook on a low heat in a pot.
Add in the barley and cook while stirring for a minute to toast and coat the barley.
Add the fish stock, reduce the heat and simmer for 30 minutes stirring occasionally.
Taste the barley and once soft remove from the heat.
Stir in 30 g butter and the chopped fresh herbs.
Squid
Lightly toss the tentacles in oil and char on a hot grill for 1 minute each side and remove.
Char the lemon for 5 – 10 minutes and squeeze over the tentacles, season with salt and pepper , allow tentacles to cool slightly, chopp and add to the barley with the juices.
   Pistou
Blend the fresh dillisk and parsley,add the oil to achieve a pesto consistency.
Season with pepper and lemon juice.
   Nori
Rinse the freshly picked nori and squeeze out all water
Toss in gluten free flour and deep fry at 180°C for 1 minute turning once.
Remove and allow to drain on paper.
Season with salt and citric acid to achieve a lightly salty and mildly vinegar taste.
Presentation:
Toss the squid tube in oil and place onto a hot chargrill and cook for 2 minutes each side and remove .
Place 2 tbsp. of the warm barley risotto onto a plate in a ring mould.
Place the charred tube on top, drizzle with the dillisk pistou and top with the crunchy nori.
Add some local flowers and herbs to garnish.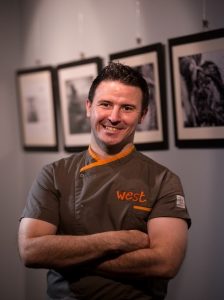 Name of the Restaurant: West restaurant @ the Twelve Hotel
Address: Barna village, Co. Galway
Contact Name: Martin o Donnell
Chef/Restaurant Profile: Martin O' Donnell, executive Head Chef
Martin trained and worked in many of Galway's and Ireland's finest restaurants before taking up the role of Executive Head Chef at the West. The West has gone on to become a finalist in the 'Best Hotel Restaurant in Ireland' and has won a Gold Medal Finalist award for 'Best Bistro in Ireland.'  It has also been awarded two culinary rosettes for creative excellence. With a style of cooking that focuses on local and seasonal ingredients – traditional dishes with a contemporary twist – Martin's passion is using local producers who are passionate about their produce.