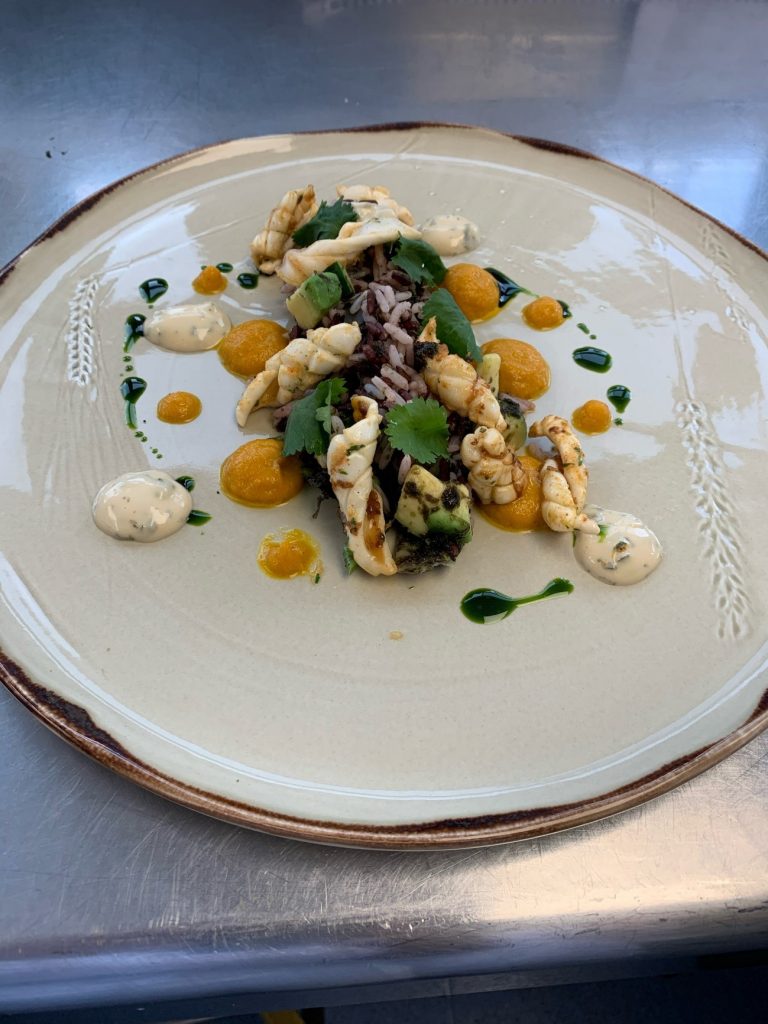 Dish Name: Spiced Squid, Nori and Rice Salad and Carrot and Ginger Dressing
Portions: 4
Preparation Time: 1 hour
Cooking Time: 5 minutes
List of ingredients:
Spiced Squid
340g squid scored on both sides
5g fish sauce
5g ginger, minced
5g garlic, crushed
5g sambal chilli sauce
2.5g lime zest
4 sprigs of coriander, leaves picked
5ml grapeseed oil
1 lime, juiced
Nori and Rice Salad
200g long-grain rice, cooked and cooled
95g black rice, cooked and cooled
1 avocado, stone removed, cut into 1 cm (½ in) cubes
50g Japanese pink pickled ginger
1 cucumber, quartered, seeds removed, and flesh diced
2 handfuls of mangetouts
10g dried seaweed, soaked in water to rehydrate then roughly chopped
1 tbsp white sesame seeds
1 tbsp black sesame seeds
Carrot-ginger dressing
65g butter
50g garlic cloves chopped
25g ginger
2.5g ground coriander
450g thinly sliced carrots
600ml fresh carrot juice
120ml double cream.
Nori Mayonnaise
1 nori (seaweed) sheet
5ml sesame oil
80g mayonnaise
15ml rice-wine vinegar
25ml juice from the pickled ginger
5ml soy sauce
Salt to season
Method of preparation:
Spiced Squid
Cut the squid into 3 cm diagonals.
Combine the fish sauce, minced ginger and garlic, sambal, lime zest and coriander in a mixing bowl to create the dressing.
Use the dressing to marinate the squid for 1 hour prior to cooking.
Preheat a sauté pan over a high heat, add grapeseed oil and heat until almost at smoking point.
Sear the squid on each side for 45 seconds.
Remove the pan from the heat and squeeze the lime juice over the squid.
Nori and Rice Salad
Combine all the salad ingredients in a bowl, season and toss to coat.
Carrot and Ginger Dressing
Melt the butter in a saucepan, add the garlic, ginger and carrots and sweat.
Season with salt, pepper and coriander. Cook until slightly softened.
Add the juice and simmer until reduced by half.
Add the cream and simmer for two minutes.
Place the mixture in a blender process until smooth.
Strain into a bowl and cool for service.
Nori Mayonnaise
Place the nori sheet in a dry frying pan and turn it until crispy.
Blitz to a powder in a blender.
In a bowl, mix the nori powder with all the remaining dressing ingredients until well combined.
Presentation:
Place the rice salad in the centre of each plate.
Place the hot squid on top.
Garnish with coriander leaves and the nori mayonnaise.
Drizzle with the dressing and serve immediately.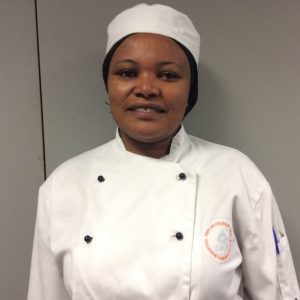 Name of the Training college: Galway International Hotel School, GMIT
Address: Galway Mayo Institute of Technology, Dept of Culinary Arts, Dublin Road, Galway City.
Contact Name: Viana Lukau
Chef Profile:
Viana Lukau was born in the Democratic Republic of Congo (DRC) and is currently a resident in the Republic of Ireland. She is an ambitious and energetic person and has returned to study Culinary Arts and Gastronomy Science as mature a student at the Galway Mayo Institute of Technology (GMIT). She works part time at Flannery's Hotel in Galway city as a commis chef. She has a passion for food especially pastry and baking and looks forward to a future in the food industry.