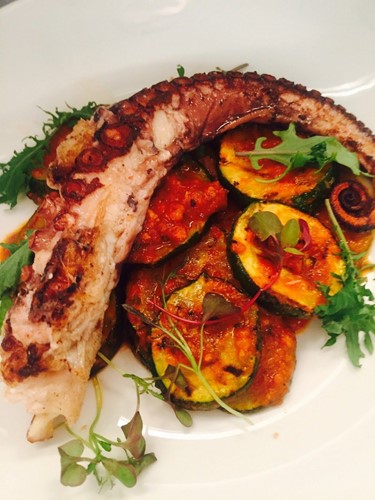 Dish Name: Chargrilled Polpo (octopus), nduja and zucchini
Portions: 4
Preparation Time: 30 minutes
Cooking time: 1.5 hours
List of ingredients:
1 x large octopus weighing 1/1.5kg  1 oranges
1 lemon
1 bay leaves 400g  zucchini
100g nduja sausages
Method of preparation:
Slice lemons, Place with a bay leaf into a pot of boiling water.
Wash and clean your octopus, removing the ink sac and internal organs by making a circular cut around the beak with a paring knife. Pull away the beak (the organs will come with it).
Place into the large pot and simmer on a gentle heat for 1
Slice zucchini into 1 cm slices
Gently heat nduja to soften and marinate the zucchini for 30
Cut octopus into segments of two/three tentacles per person, fry on chargrill to maximise  flavour, chargrill the zucchini until
Garnish with micro herbs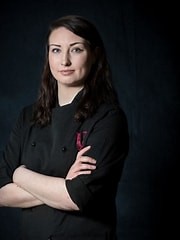 Name of the Restaurant: Il Vicolo
Address: Bridge Street, Galway
Contact Name: Megan Nolan
 Megan is the head chef at Il Vicolo restaurant. She has thirteen years of culinary experience including an eight month apprenticeship at the Dorchester Hotel and Demi chef de partie at Naughton's Seafood & Steak  Restaurant, Kilkee, Co. Clare.
The menu at Il Vicolo has evolved into a contemporary Italian kitchen with a mix of seasonal Cicchetti, pasta, risotto, fish and meat. Megan is passionate about everything Italian and use the best of Irish produce, local producers and the best exports the Italian peninsula has to offer.