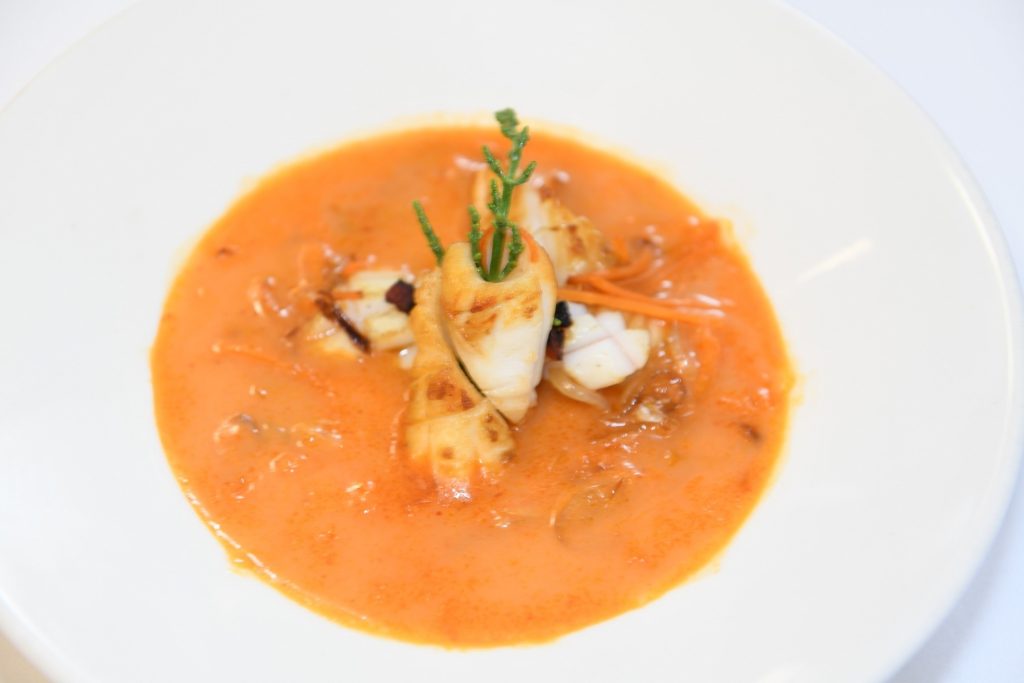 Dish Name: Squid Bisque with Chorizo
Portions: 4
Preparation Time: twenty minutes
Cooking Time: Thirty minutes
List of ingredients:
30g butter
60g shallot, carrot, leek  (julienne)
1 squid 1 (cut into 2cm sections and scored)
1 bay leaf
1 thyme sprig
1 parsley stalks
1 tbsp tomato puree
2 tsp brandy
1 tsp wine 1tsp.
2 lts fish stock 2
1 lt fish velouté
Salt and Pepper
50g sea asparagus
50g chorizo
Method of preparation:
Wash, peel, rewash and julienne carrot, finely slice leek and shallot.
Lightly fry 40g of the above to a light golden colour and add in thyme and parsley stalks
Add in brandy and wine and flambé, add in tomato puree and mix in well
Add stock and velouté, bring to the boil, skim, season and simmer
Prepare and score squid and cut the sections into 2cm dice. Fry in hot pan until cooked
Lightly fry 20g portions of leek, carrot and shallot in a hot pan until crisp for garnish. Remove and set aside, using the same pan, fry the remaining chorizo
Test soup for seasoning, taste and consistency. Remove thyme and parsley stalks
Pour soup neatly into four suitable bowls
Neatly place cooked squid in the centre of the bowls, surrounding it with the remaining soup. The fried vegetables for garnish should be placed neatly around the squid, the chorizo is then added over the soup and garnish with sea asparagus.
Name of the Restaurant: The Square Table
Address:   Cork Institute of Technology Bishopstown Campus
Contact Name: Setanta Walsh